John Boyd Dunlop Biography - The First Commercial Pneumatic Rubber Tire
Bicycles that we drive today would not be anywhere close to be the same without the ingenuity and inventiveness of the British inventor John Boyd Dunlop who managed to introduce to the world first commercial pneumatic rubber tire. This invention enabled first bicycles, and then cars, to achieve markedly improved level of comfort for their passengers while traveling across terrains of all types. Managing to take advantage from his invention, John Boyd Dunlop established "Dunlop Pneumatic Tyre Company", a tire and various rubber goods manufacturing company that remained in the top echelon of manufacturers for almost 100 years before it was sold to in 1980s.
John Boyd Dunlop was born on February 5th 1840, in Dreghorn, North Ayrshire, Scotland. He studied to become veterinary surgeon, managing to finish Royal School of Veterinary Studies at the University of Edinburg and practice this job for over 10 years both at home and in the city of Downpatrick, Ireland, where he established "Downe Veterinary Clinic" together with his brother James. After a period of time, he moved to a work in a private practice in Belfast.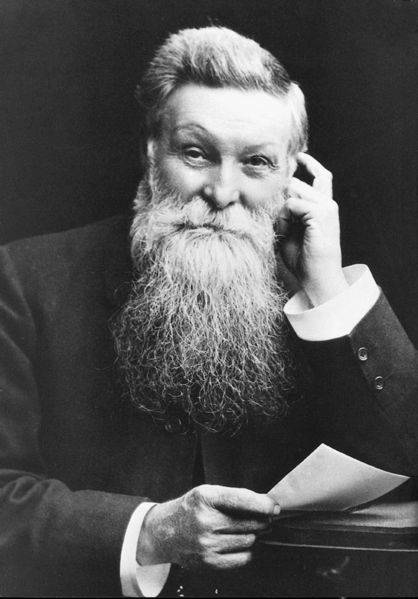 In 1887, John Boyd Dunlop made his most important discovery. While looking for a way to make the tricycle of his sun run better on surface of his backyard, he produced first practical and commercially viable example of inflatable tire. He fitted it to a wooden disc that was 97cm wide, using sheet rubber as a main component. He then took metal wheel of the tricycle and put thin layer of inflated rubber on its outer edge. Results were stunning. Both tricycle and later on his bicycle showed remarkable improvement in ability to drive on any type of terrain, with much smoother feeling of driving and reduced loss of speed due to lowered resistance between ground and the wheel. Dunlop sadly was not successful in securing patent for his discovery in late 1888 because Scottish inventor Robert William Thomson patented inflatable tire back in 1847 (he never managed to make commercially viable model).
1889 was a year when the world loudly heard about Dunlop's inventive tire. His friend Willie Hume took advantage from this tire and won almost all notable bicycle races that year, which popularized Dunlop's pneumatic tires greatly. Just one year later, Dunlop's own company began commercial manufacture of pneumatic tires and other rubber goods, just in time to fuel incredible expansion of the road transport network that started being built during that time all over Europe and the world.
John Boyd Dunlop died on October 23 1921 in Dublin at the age of 81. He is today remembered as crucial inventor who made riding bicycles and driving cars viable on all types of surfaces. His face is present on the £10 note that is used in Northern Ireland.