List of Bicycle Parts and Components
Modern bicycles are made with dozens and dozens of parts, but the most important ones are its frame, wheels, tires, seating, steering, drivetrain, and brakes. This relative simplicity enabled initial bicycle creators to create reliable and easy to use bicycle designs mere decades after first velocipedes started being sold in 1960s France, but with a little effort they enhanced the bicycle design to accommodate much more parts that are today part of all modern bicycles.
Most important bicycle components:
Frame – Bicycle frame is the central component of the bicycle on which all other components are mounted. They are usually made from very sturdy and strong materials (most commonly steel, aluminum alloys, carbon fiber, titanium, thermoplastic, magnesium, wood, scandium and many others, including combinations between materials) that are formed into design that fits the use case scenario of the bicycles. Most modern bicycles are made in the form of the upright bicycle that is based on the Rover's Safety Bicycle of 1980s. It consists from two triangles, form what is today most commonly known as "diamond frame". However, in addition to the diamond frame that requires driver to step with his legs across the "top tube", many other designs are today used. Most notable ones are step-through frames (targeted for woman drivers), cantilever, recumbent, prone, cross, truss, monocoque and many other types that are used in highly specialized bicycle types such as tandem bicycles, penny-farthings, folding bicycles and others.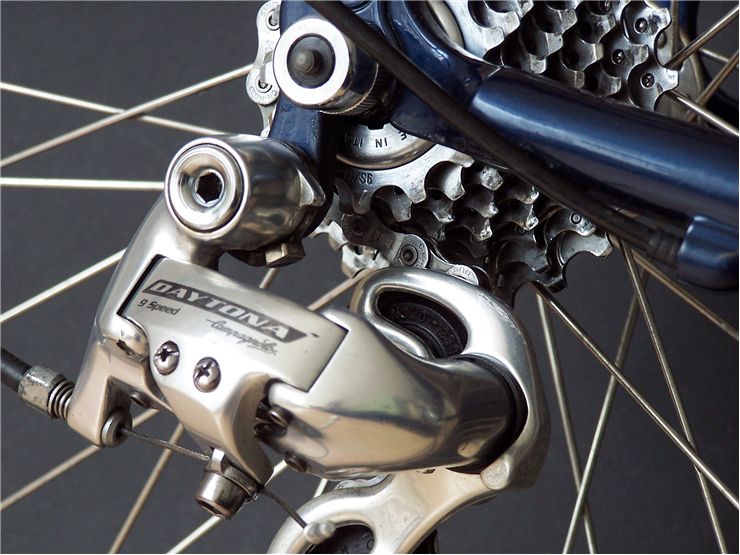 Wheels – Bicycle wheels were initially made from wood or steel, but with the invention of pneumatic tires they switched to the modern lightweight wire wheel design. Their main components are hub (that houses axle, bearings, gears and more), spokes, rim and tire.
Drivetrain and Gearing – Transferring the power from the users legs (or in some cases hands) is done utilizing mechanisms that are focused on three specific areas – power collection (pedals that rotate on the geared wheel), power transmission (collection of power of the pedals onto a chain or some other similar component such as chainless belt or shaft) and finally speed and torque conversion mechanisms (gearbox, shifters or direct connection to the single gear that is connected to the rear wheel axle).
Steering and Seating – Steering on the modern upright bicycles is achieved by connecting handlebars with the turn fork via the stem which can freely rotate within the headset. Normal "upright" handlebars have traditional look of bicycles that are produced ever since 1860s, but modern road and racing bicycles also have "Drop handlebars" that are curved forward and down. This configuration demands from driver to push himself forward in best aerodynamic position. Seats are made in countless configuration, form those that are extra comfortable and padded, to those that are more rigid and narrower toward the front so that they can give driver more space for leg movements.
Brakes – Bicycle brakes come in several types - Spoon brakes (rarely used today), Duck brakes (same), Rim brakes (friction pads that press the rim of the rotating wheel, very common), Disc brakes, Drum brakes, Coaster brakes , Drag brakes and Band brakes. While many of those brakes are made to be used as with Actuation mechanisms, some are hydraulic or even hybrid.
Complete list of bicycle parts:
Axle:
Bar ends
Bar plugs or end caps
Basket
Bearing
Bell
Belt-drive
Bicycle brake cable
Bottle cage
Bottom bracket
Brake
Brake lever
Brake shifter
Braze-on
Cable guide
Cable
Cartridge bearing
Cassette
Drive Chain
Chainguard
Chainring
Chainstay
Chain tensioner
Chaintug
Cluster
Cogset
Cone
Crankset
Cotter
Coupler
Cup
Cyclocomputer
Derailleur hanger
Derailleur
Down tube
Dropout
Dustcap
Dynamo
Eyelet
Electronic Gear-Shifting System
Fairing
Fender
Ferrule
Fork
Fork end
Frame
Freehub
Freewheel
Gusset
Hanger
Handlebar
Handlebar plug
Handlebar tape
Head badge
Head tube
Headset
Hood
Hub
Hub dynamo
Hub gear
Indicator
Inner tube
Jockey wheel
Kickstand
Locknut
Lockring
Lug: a
Luggage carrier
Master link
Nipple
Pannier
Pedal
Peg
Portage strap
Quick release
Rack
Reflector
Removable training wheels
Rim
Rotor
Safety levers
Seat
Seat rails
Seat lug
Seat tube
Seat bag
Seatpost
Seatstay
Shaft-drive
Shifter
Shock absorber
Side view mirror
Skirt guard or coatguard
Spindle
Spoke
Steering tube
Stem
Tire
Toe clips
Top tube
Valve stem
Wheel
Wingnut