Cruiser Bikes - Confort, Stable and Easy to Ride
After the initial popularization of the bicycles in the United States, this country went through several stages of rise and fall of the popularity of this type of personal transport. During such periods of low popularity, the usual reason why they returned to high sales can be attributed to the brand new models of bicycles that sparked the interest of not only regular bicycle customers but also brand new drivers. One of such examples is cruiser bicycle that were first introduced in the 1930s and remained in high demand until end of 1950s.
The origin of cruiser bicycles can be traced to early 1930s and the strong economic crash that hit United States. During that period potential bicycle drivers were not satisfied with current models on the market, citing their poor durability and high price as main reasons why they don't want to purchase one. As a response to those sentiments, Schwinn Bicycle Company decided to produce bicycle that will have strong visual look and rugged design that would make it appealing to new customers. The most defining characteristic of cruiser bicycles was its design that resembled a motorcycle, with handlebars that were curved on the edges toward the driver, and main top tube that is reinforced with additional decals and accessories that visually transform it into the look of the motorcycle gas tank. This brought in the interest of not only adults, but also children who saw this bicycle as the much cheaper alternative to expensive motorcycles. Types of motorcycles that early Cruiser bicycles emulated the most were Henderson and Excelsior.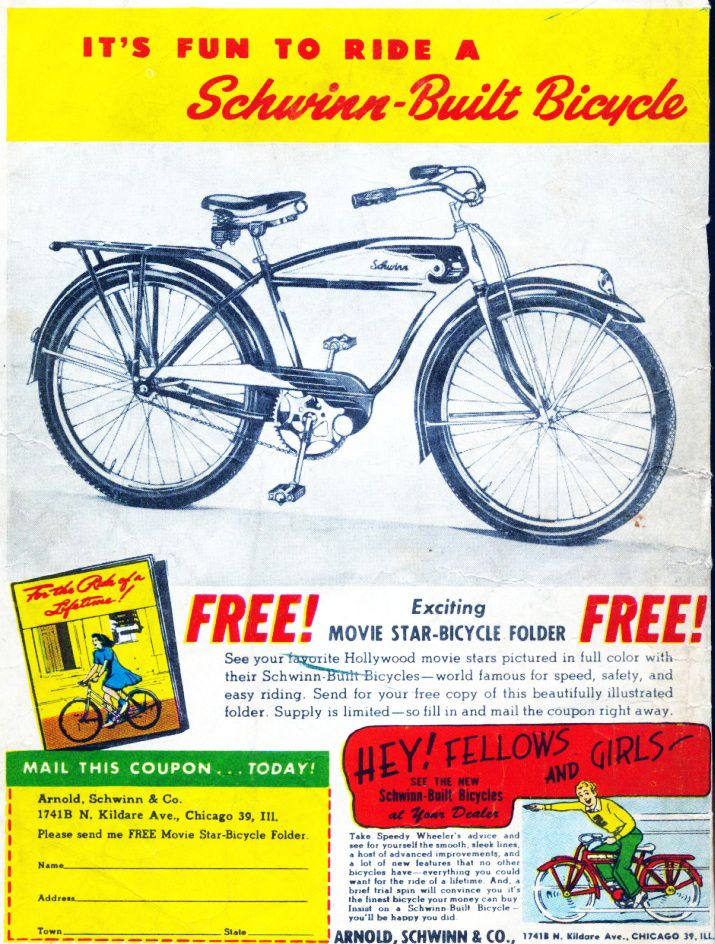 Original model of Schwinn B-10E bicycle that was sold very successfully across US in early 30s received several upgrades, most notably with the name "Aero Cycle" that featured little streamlined design, battery powered headlights, and faux gas tank. After World War II cruiser bicycles retained their popularity, and drivers all around United States used them on daily basis. Many companies from that time strived to improve their rugged and very durable design, with one of the most interesting models featuring built-in radio that was placed in the "faux gas tank" area (Huffy Radio Bicycle). Other accessories like cargo mounts, better suspension, more than one light bulb, chrome pain and motorcycle-style horn tanks.
In late 1950s and early 1960s popularity of cruiser bicycles fell of dramatically after introduction of several models of European bicycles, most notably English city bicycle "Roadster". By late 60s and early 70s cruiser bicycles were mostly viewed as a strong inspiration to the several models of brand new types of bicycles - Wheelie bicycles, Lowrider bicycle, and most notably mountain bicycles who were born as manually customized cruiser bicycles. During 80s cruiser bikes had resurgence as "beach cruisers" and as an expensive collector items.
After 2000s, cruiser bicycles can still be found on streets. Many manufacturers from all around the world are still creating them more and more with each passing month.