BMX Bikes and BMX Cycling
1970s played an important part in development of two very important types of bicycles that have today managed to infuse their innovations into almost every corner of the bicycle world. Those two bicycle types were Mountain Bike and BMX, both heavily influenced by the sudden explosion of popularity of the motorcycle motocross competition in the United States. While mountain bikes had quite longer history but without any successful example of commercial products before 1970s, BMX were creation that was fully formed with the effort of numerous cycling enthusiast in the Southern California who modified their ordinary bicycles in innovative ways so that they could survive torture on the tracks that were created for both motocross and BMX races. During the same decade, popularity of BMX bicycles spread all around the United States, with both kids and grownups being attracted to the various use-case scenarios that these bikes allowed. These include racing on flat tracks, motocross races on dirt and urban tracks, preforming tricks, general city cycling, and cycling on mountainous terrains.
The design of BMX bicycles if fully optimized for stunt riding and racing in tracks that feature sudden high elevation changes and obstacles. The core of each BMX is their steel or aluminum diamond frame (smaller, cheaper or racing models are almost always made from steel), thick and reinforced tires, and distinct lack of any accessories such as fenders, lights, cargo accessories or others. Almost every model of BMX bike has wheels with 36 spokes, and many trick performers under-pump their tires so that they can more easily amortize the impacts made during their routines. Wheel sizes range between 16" and 26", with 20" being present on majority of the models. Gearing of the bikes is usually around 2.8:1, with shorter gears that are best suited for better agility.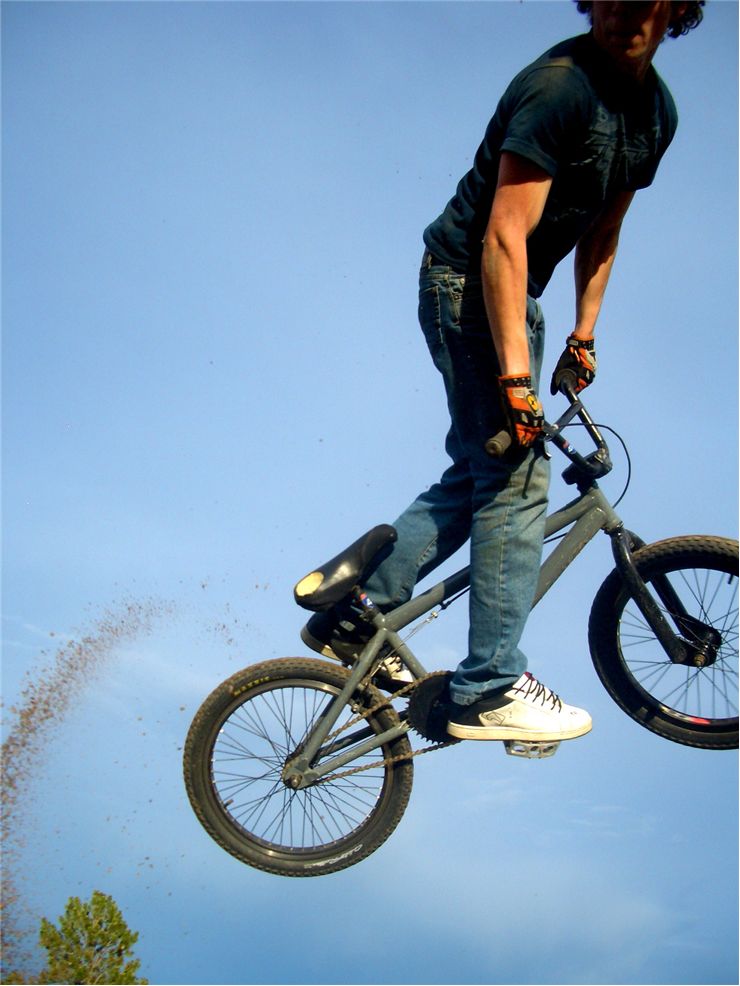 After the dramatic fall of the popularity of BMX bikes in late 1980s, they managed to resurface in big style in the early 2000s. Manufacturers form all around the world produce many new and improved models each year, sporting events become more and more watched, many international organizations govern official racing and competition events, part of Olympic summer games as of Summer of 2008 and much more. Casual riders of BMX bikes have age range of between 2 and 90 years, while professional cyclists start with age of 18. Examples of the sporting competitions are Starting Hill (race in which starting position is placed on top of a largest hill on the track), Step-up (track with mix of large and small hills), Berms (fast-paced races), Double (featuring two hills close to each other), Step-Down (tracks with one large hill followed with one smaller), Roller (track with groups of several smaller hills), Flat Table (track with single jump point).