Types and History of Mountain Bikes
Ever since the first bicycles became good enough for driving on city streets, people started testing them on all possibly types of surfaces. Driving on the mountainous and harsh terrains took a little while before became viable and popular with general population, but that did not stop cyclist to test even the earliest models of bicycles on unforgiving surfaces. Earliest examples of cycling on harsh terrains came from 1890s when several military regiments tested out bicycles for faster movement in mountains. Examples of this were Buffalo Soldiers from US and Swiss military. In first few decades of 20th century, off road bicycle driving was relatively unknown pastime of small number of cyclist who wanted to remain fit during winter months. Their pastime became official sport in 1940s and 1950s with one of the first organized events being held in 1951 and 1956 in the outskirts of Paris where groups of around 20 drivers enjoyed races that were very similar to today's modern mountain biking. In 1955 UK formed their own off-road cyclist organization "The Rough Stuff Fellowship", and just a decade later in 1956 first official model of "mountain bicycle" was created in the workshop of Oregon cyclist D. Gwynn. By early 1970s, mountain bikes started being produced by several manufactures in US and UK, mostly as reinforced bicycles created from the frames of ordinary road models.
Only in late 1970s and early 1980s came first true mountain bikes who were created from the ground up with reinforced tires, built-in suspension, lightweight frames created from advanced materials and other accessories that were popularized in both motorcycle motocross and rising popularity of BMX segment. While the large manufacturers elected not to create these kinds of bikes, new companies such as MountainBikes, Ritchey and Specialized blazed the way for incredible popularization of these "all terrain" bicycles. They introduced new types of frames, gearing that supported up to 15 gears for easier driving up hill and across unstable surfaces.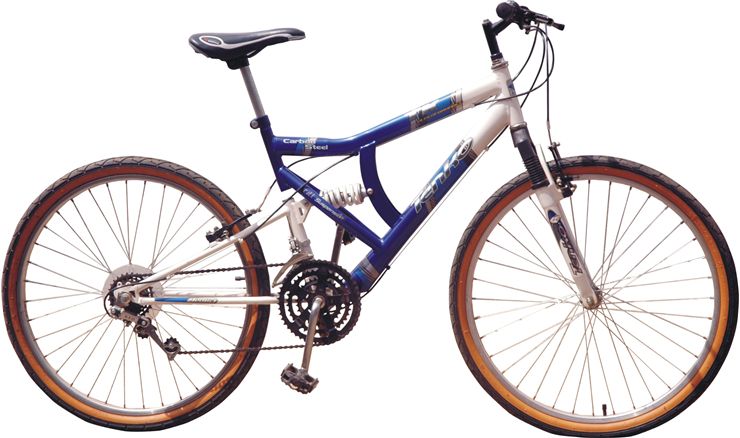 By the 1990s, mountain bikes became worldwide phenomenon with regular drivers using them on all types of terrain and almost all manufacturers striving to produce better and better designs. Most popular wheel size became 29-inches, and bicycle models were separated in many driving categories - Cross-Country, Downhill, Free ride, All-Mountain, Trials, Dirt Jumping, Urban, Trail riding and Mountain Bike Touring.
Most notable differences between mountain bikes and ordinary road bicycles are the presence of active suspension, larger knobby tires, powerful gear system, presence of lower gear ratios (usually between 7-9 gears on the back wheel and up to 3 gears in front), stronger disc brakes, and more durable wheel and rubber materials. Mountain Bicycle drivers very early accepted the need for wearing protective gear (earlier than professional road cyclist) and other helpful accessories such as helmets, gloves, body armor, pads, first aid kit, glasses, bike tools, high-power lights for night driving, hydration systems and GPS navigation devices. Mountain Bike cyclists who drive in harsh terrains are also much more willing to bring tools for fixing bikes together with them.

Cross country mountain bike races were officially introduced in Olympic Games during summer of 1996, for both men and women competition.