Tour de France History and Most Important Winners
The most popular endurance road cycling race in the world was created in 1903, but the buildup to its formation has roots that went all the way back to the first official bicycle race ever made. From the very beginning, most popularized bicycle races were not performed on small pre-built tracks, but were focused on longer distances, racing between cities or even really difficult competitions that demanded from cyclist to drive as much as they can over a week or even longer. These incredible feats of endurance popularized drivers who were viewed to have "superhuman" abilities, which fueled both professionals and recreational drivers to excel at breaking various endurance records, with several examples of bicycle touring trips that could last even several years and cover several dozen thousands miles.
In such environment, the organizations of first Tour de France envisioned a truly spectacular multi-stage race on the scale that was never before attempted. They formed a competition that would start at Paris, go around the entire France and return to Paris 19 days later. This event was intentionally made so difficult so that (by organization's belief) only one driver will have enough power and endurance to finish it. Tour de France was created by the editors of sports magazine L'Auto who experienced financial problems and wanted to organize a spectacular event that would revitalize its sales. After long preparation and changes of rules that attracted much larger number of entries, the first Tour de France started on 1st July 1903 in front of Café Reveil-Matin in the village of Montgeron. Between 60 and 80 competitors entered the race, with daily events that went even though the night. End of the race was held at the edge of Paris at Ville d'Avray with the winner being Maurice Garin who covered distance of 2,428 km in 94h 33m 14s. Second Tour de France brought much disgrace upon organizers of the race because of the rampant cheating that even evolved beating of the competitors during nighttime parts of the race and disqualification of many cyclists (including 1903 winner Maurice Garin). However after 1905's race, rules were tightened, night racing was banned and new forms of daily point systems were introduced and stages were shortened. Over the next several decades, Tour de France became the internationally best known bicycle race in the world.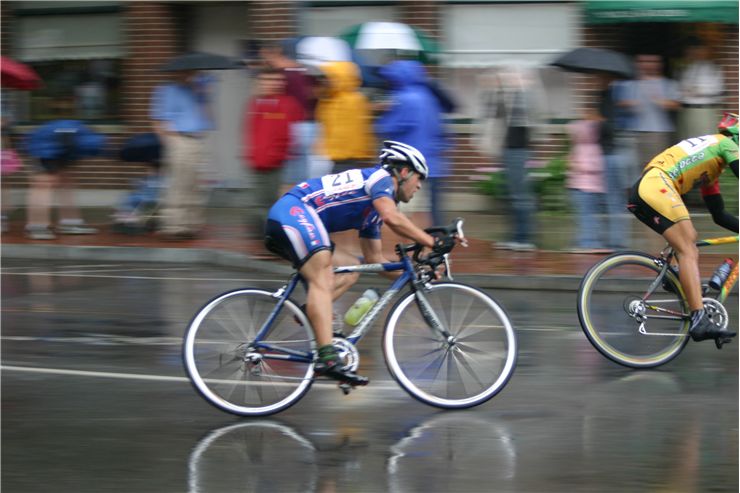 However, the success cannot come without healthy dose of controversy. Diqualifications for cheating and doping are too numerous to list here, starting with the 12 cyclists being disqualified from 1904 race all the way up to most recent very public disqualification of the 7 consecutive wins of Lance Armstrong.
Today, Tour de France consists from 21 daily stages, competitions in individual time trials, time limit stages, and classifications that cover mountain tracks, points, young riders, minors, and general classification that crowns the overall winner of the race. The race covers around 3,500 km, and is usually separated in 9 flat stages, 6 mountain stages, 5 hilly stages, 5 high-altitude finishes and 1 individual time-trial stage. Even though this race was created to be held entirely in France, since 1954 several starts of the race were held in the neighboring countries such as Netherlands, Germany, Switzerland, Belgium, United Kingdom and others.